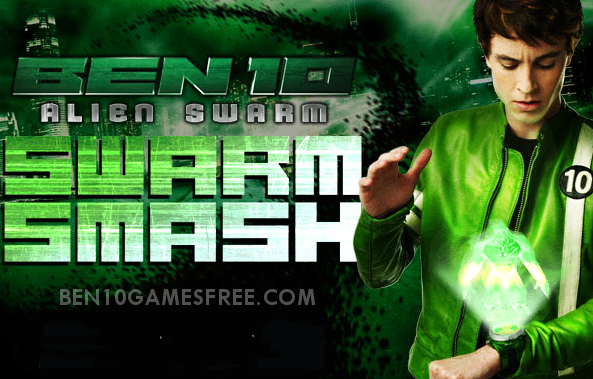 Ben 10 Alien Swarm Smash:  Play Game Online & Download
Which is your favorite Ben 10 Alien? Did You say Humungousaur? Ben 10 Alien Swarm Smash is one the most favorite Humungousaur game. It is the time to smash the swarm of Aliens as Ben is on the mission to save Gwen and Kevin.
About Ben 10 Alien Swarm Smash Game
Ben 10 Swarm Smash game is based on the 2009 film – Ben 10 Alien Swarm. The movie is the part of the Ben 10 Race Against Time film series. Just like the film itself, in the game too Gwen and Kevin are in trouble and Ben is the only one who can save them from Alien Swarm.
Ben 10 Alien Swarm Smash game gives you a chance to become Humungousaur and tackle the alien swarm with powerful moves and attacks. Let's talk about the gameplay to help you win.
Game Play: Ben 10 Alien Swarm Game
In the beginning of Ben 10 Alien Swarm Smash game, Ben transforms into Humunguosaur as he is on the way to save Gwen and Kevin. We all know he is one of the most powerful aliens of Ben 10 and you can definitely defeat the enemies with him.
Ben 10 Alien Swarm Smash is a core fight game and also one of the most played Ben 10 Fighting games.
As Humungousuar runs through the scene, multiple Alien swarms come in the way to obstruct. Not only obstruct, these alien swarms attack too. The only way to move forward is to fight and kill these swarms.
Well, to fight you need to know good moves. In this game, you will have a number of moves to play with like uppercut, tackle, kick and punch.
And in case, you get surrounded by too many swarms and it gets difficult to kill them, you can you the ultimate superpower of Humungousaur to become a giant stamp all the aliens under the foot. But that's only for a limited number of times.
When you get hit by the alien swarm, you will loose power and health. To kill all the enemies and the complete the Ben 10 Alien Swarm game,  you need to collect the energy and health balls.
Pro Tip: Collect all the Health and Energy Balls to stay in the game for longer and win.
Well, that's about it. Don't forget to check out the 'How to Play' section, to know all the moves.
Smash the Alien Swarm with Humungousaur powers and Save Gwen & Kevin to Win! Good Luck!
Don't Forget to give your rating for Ben 10 Alien Swarm Smash Game and share your tips and tricks to win this game in the comments section below.
Ben 10